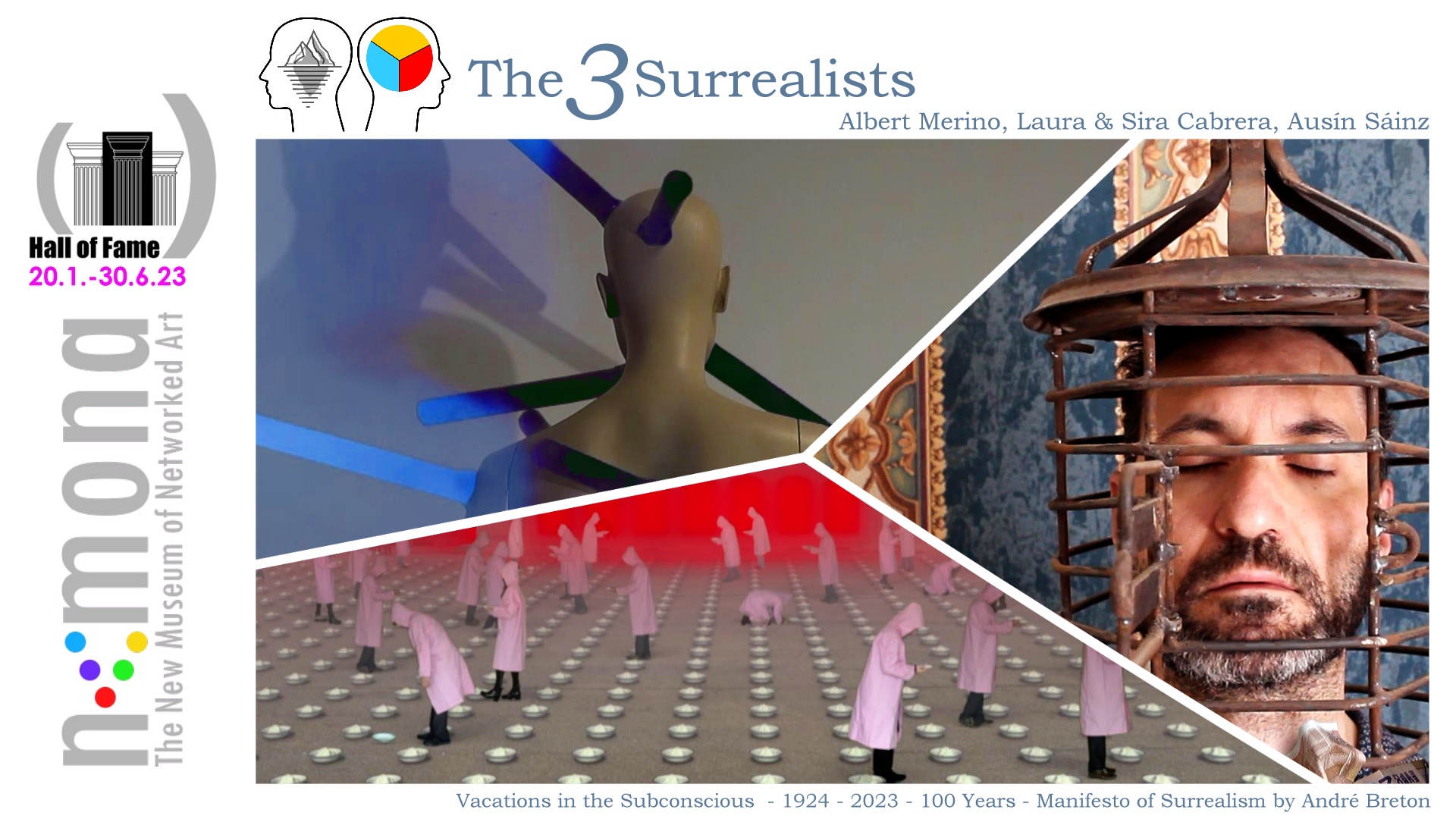 The 3 Surrealists
@ Hall of Fame / The Museum of Networked Art
featuring – Albert Merino, Laura & Sira Cabrera and Ausín Sáinz.
As a key exhibition in 2023, The 3 Surrealists is focusing on three significant representatives in video art using an extended contemporary understanding of artistic concept entering contemporary art 100 years ago when André Breton published his Manifesto of Surrealism.
The three Surrealists are the internationally renowned Spanish Albert Merino, the twins Laura & Sira Cabrera and Ausín Sáinz.
The exhibition @ The New Museum of Networked Art's Hall of Fame is featuring not only 10 videos by each artist created during the past 10 years – 30 videos in total & the biographical context via textual and filmic interviews, but places this show also in the historical and artistic context of digital art video using diverse surreal concepts as tools of contemporary representation.
Albert Merino's videos offer the view on an exuberant creativity generating an astonishing cosmos of inner and outer worlds in a dimension the early Surrealists could only dream of. His metaphoric language is following a very individual point of view criticizing the individual and his position in contemporary society, generating images seeming like dreams from a distant future.
Laura & Sira Cabrera's videos tell about the female identity under the current changing social, cultural and ecological conditions. They transport philosophical ideas via an abstract alienation generating a kind of parallel universe the viewer is diving into the subconscious.
Ausín Sáinz's videos describe end time scenarios, the extremes of the endangered internal and external identity landscapes, life and death, dealing with essential questions of the contemporary Being, whereby he slips into different identities representative of society.
Enter – The 3 Surrealists

in solidarity with Ukraine